We i have been working on a build for grissum solely for being a tank and also the pvp stud he could be.
enjoy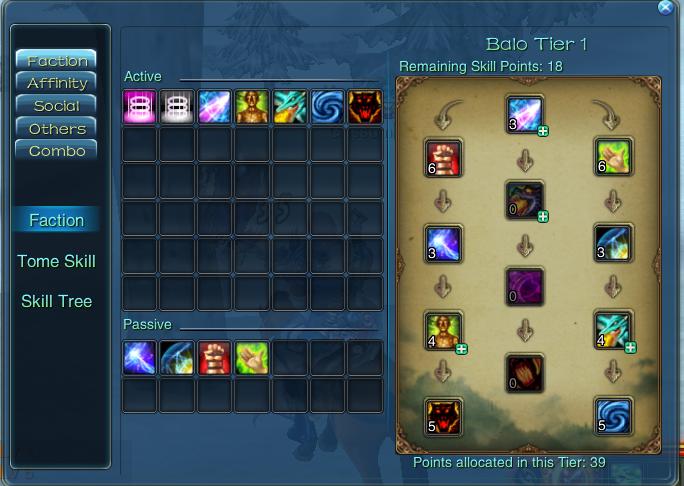 As you can see there is more points than required but that is for a reason. ill break tier one down and why i choose the placements.
TIER ONE
Hard Blow 3/6
Fitnesse 6/6
Vigor 6/6
Muscle Repule 3/3
Flanker 3/3
Ordeal 4/9
Tailslip 4/9
Tiger Maw 5/5
Calm Wind 5/5
Total points = 39
=======
Now i know people might think thats a insane ammount but it is worth it.
Harden Blow
- You just place three into this skill nothing more because it becomes useless later and you only need to required ammount to move to the next skill.
Fitnesse
- You want to max this skill out as it increases your final ammount of HP before buffs and as any tank, pvper knows you need uber ammounts of hp.
Vigor
- You want to max this skill out because it increases your final ammount of SPIRIT and any tanker or pvper will tell you to run out of spirit is a bad bad thing.
Muscle Repulse
- This skill also should be maxed because it increases your AP and even though attack is not a must it will aid you. For three points you cannot really go wrong in the long run.
Flanker
- Max this baby out! it will increase your defence and for three points again def worth doing. you will find any extra defence is a bonus for you.
Ordeal
- I have placed four points on this skill because it opens up tiger maw for me. But this is the final ammount on this skill its open for your own choice to come back when your higher and max them out. This attacks them and also gives a chance of lowering there speed which can be helpful but for now you only need four points because you wont be actively pvping til later.
Tailslip
- This skill is the same as above except it interrupts the enemies attack and has a chance of silencing them. Now i have placed four on this to solely open up calm wind. But later on you can max this out however you see fit. Right now you wont be pvping til later tiers anyway.
Tiger Maw
- This is a group buff so i maxed this out. It increases yours and the parties AP for 30 minutes. Which can be very helpful. I maxed it out now because i tend to use parties a lot and also i can buff ppl who need it in SS for the alliance concidering it lasts 30 minutes.
Calm Wind
- This is the second group buff of tier one and i maxed this out as well. It increases yours and your parties max hp for 30 minutes which is extremely helpful when warring or tanking. Extra hp may give you that second more to kill something or someone.
so there is my skill tree for tier one. it has everything based towards pvp and also foundations of a good buffer and so forth. to make any good char you need a good foundation.